Conrad Vogel
RSVP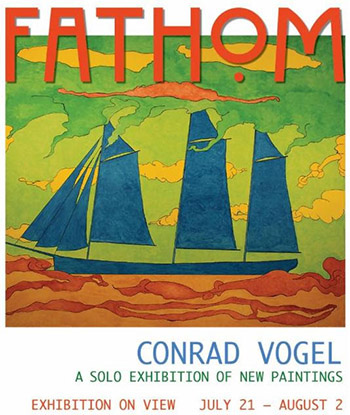 Conrad Vogel is an artist living and working in New York City. He is a graduate of Sarah Lawrence College with a B.A. in Literature and Writing. He has also studied Fine Arts in Italy, Gross Anatomy at Yale, and attended the Arts Students League, The New School for Social Research, and the New York Studio School of Painting, Drawing and Sculpture. He has been exhibiting his work in New York since 1981. His work has been reviewed in New York Magazine, Artforum International, The New York Post, Cover Arts Magazine, and The Cleveland Plain Dealer, among others.
He has given presentations of his work and studio crits at the University of Wisconsin - Oshkosh, Pratt Institute, School of Visual Arts, and has been a guest teacher and lecturer at Fashion Institute of Technology and the Gibbs School in New York. He has curated nine annual Reunion Artist alumnae/i Exhibits at Sarah Lawrence College. His work is in the permanent collections of Museum of Modern Art and Patterson Museum (New Jersey), and in private collections in England, France, Switzerland, Holland, Italy, Mexico, and the United States.
Statement:
I work in different media with a concentration on painting and digital pigment prints on paper. My figurative work focuses on the vagaries of the human condition. This includes themes of abandonment, betrayal, war, love, frailty and absurd humor as they intrude upon the daily interaction between ordinary humans, anthropomorphic creatures of nature of the land and sea. The current installation FATHOM now at Dorian Grey Gallery, Westhampton Beach brings together elements of man's co –existence and related perils of life on the sea.

In my paintings I create scenes in which my characters strut and fret their hour upon the stage, allowing the viewer to engage in a silent conversation with what is being developed before them. The works are meant to be accessible at first viewing, using lively brush drawing and high childlike irrational color that later deepens with the viewer's perceiving the ironies of contrasts and juxtapositions by the fluidly drawn images.

Since I want the viewer to take a journey while experiencing my work, I'm not directly showing them a clear way to understand my paintings. I like the enigma that develops when disparate and seemingly incongruous images appear within the painted stage that I create. I want the viewer to slowly read the work, sometimes looking more than once to see all the smaller components that make up the whole work.

In its approach, my work at times draws inspiration from Literature, History, early Renaissance painting, 19th century American painting and Asian scroll painting & Japanese Zen brush drawing.