100% Art - Work by Mark Freeland

Exhibition Dates: March 6th- April 8th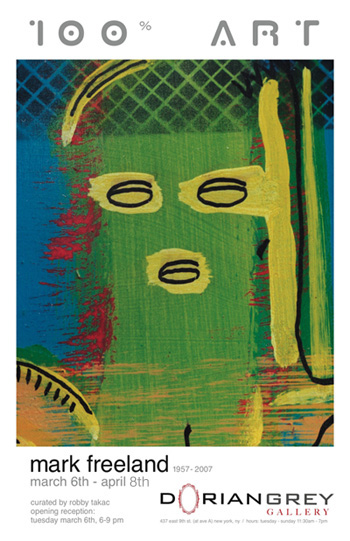 Exhibition curated by Robby Takac of the Goo Goo Dolls
Official Dorian Grey Gallery music site: www.crackedlatin.com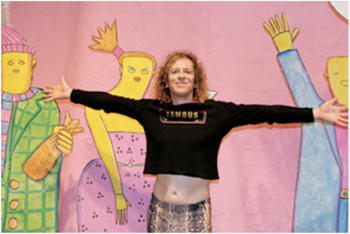 Mark Freeland in front of his work
The only question that remains is how come a guy this talented, entertaining and full of ideas isn't as rich and famous as, say, Prince?
—Dale Anderson (Artvoice, 1996)
Mark Freeland 1957-2007
Mark Freeland lived by one straightforward code his entire life: If you want to do something significant, do something original, something different. Anyone he respected lived by that code, whether they were musicians like Elvis, Bowie, Hendrix, the New York Dolls, Patti Smith, the Velvet Underground, John Coltrane, the Sex Pistols, Peter Gabriel, Miles Davis or Bob Dylan, or visual artists like Dali, Van Gogh, Pollock, Seurat, Duchamp, Basquiat or Picasso. He could appreciate James Joyce and Keith Haring, as long as they confirmed his belief that to be an artist you must be original, and be original again, and then continue to be original.
Mark Freeland remains as one of Buffalo's most enduring personalities of the past four decades. Mark attended St. Paul's School in Buffalo, New York (where he was an alter boy) and later graduated from Kenmore West in 1975. He attended Empire State College where he starred in a Studio Arena production "A Thousand Clowns" at age 12. Directed by Fred Keller Jr., the production consisted of all adult actors with only one child role – Mark was the star child. Freeland also starred in a short film that Keller Jr. directed that won at the Cannes Film Festival-"How to be a Millionaire".
Having a true passion for music, Mark taught himself to sight-read music at an early age. Instruments played include guitar, drums, clarinet, keyboards, flute, television, tape recorder and practically everything and anything. Over the years, Freeland created and played in so many bands and with so many musicians that it would be too challenging to adequately discuss them all: Pegasus, Pegasonics, Electroman, Erectronics, Killik, Brian One, Dolly Dew and the Weiner, Pageantry of Weens, the Fems, the Jamie Moses Band, Industry of Life Divine, Our Daughter's Wedding and probably a lot more. He was tireless in his pursuit of music. Mark was inducted in the Buffalo Music Hall of Fame in 1987. In a 1987 Buffalo News interview with former music critic Dale Anderson, Mark asked, "When they're testing kids in school, which one do you think is going to score higher––the kid who spends hours working on one painting or the kid who turns out a hundred things in ten minutes?" Anderson, observing Mark's creative 'prodigiousness', concluded that there was no question in Freeland's mind as to which is the mark of a genius.
For Freeland, it was necessary always to reach farther, to be more outrageous, to dream up the unthinkable, to surprise, to shock and to affirm relentlessly his own sense of genius. It was always about the art, the performance, the immediate fans, and never about the business. Freeland believed that someday someone would recognize his gift and take care of all the business tasks needed to propel him to stardom. "The guy who finally gets to market my brain is going to be a millionaire," he once said. But Freeland's "guy" never showed up. And sadly, some of those whose success he inspired left him behind as well. For example, a 1994 interview in Xtreme Magazine asked Johnny Rzeznick of the Goo Goo Dolls about the music scene between 1979 and 1984. "Those guys," said Johnny, "especially Mark Freeland, Kent Weber and Dave Kane. They've all been working so hard. Freeland kills me. He is a bigger rock star than I will ever be. I love that guy because he's everything a rock star is supposed to be. Everything is complete excess. Those were the guys who really taught me a lot of what I know."
Prior to Marks death, friends learned that he had been struggling for some time with cancer. However, these same confidants said he looked quite at peace with himself, and perhaps for the first time in his life, at peace with the fact he was not going to be a world star; for better or worse, he was going to pass away quietly in Buffalo, New York, and all that he'd done over so many years, he had done for Buffalo. And that was all right. He realized that everything in life came down to one word: love. Love was not something Mark Freeland ever lacked; he gave it freely and he received it from all who knew him. After he passed away in his sleep on June 14, 2007, hundreds came over the next few days to give homage to the champion for whom they had rooted for so long. Musicians, photographers, music writers, painters, fans and friends came from as far away as California and from as far in the past as Mark's childhood years.
Mark was a world-renowned artist whose work is represented in private and public collections around the world including 20 paintings purchased by philanthropist Elisabeth Wilmers and donated for display at Roswell Park Cancer Institute Pain Clinic. In 2005, Mark had a show at Albright Knox Art Gallery,.. He self-published two books "Every Night is Different" and "Somewhat Hip." "Somewhat Hip" earned a Silver Independent Publishers Award in the graphic novel category. The books contain his poetry, photography, prose and paintings.