Walter Robinson: Indulgences
Recent Paintings & Works on Paper
Exhibition: March 1st-31st, 2013
Reception: March 1st, 6-9pm
Dorian Grey Gallery is pleased to present "Walter Robinson: Indulgences," a solo exhibition of new paintings and works on paper. The exhibition and artist's reception open on Friday, March 1st, 2013 and remain on view through Sunday, April 7th.
Robinson's work visualizes the idea of indulgence, both in terms of contemporary consumer appetites and in reference to the religious practice by which sins can be forgiven. Using a straightforward illustrative style, he presents pop culture images of cheeseburgers, alcoholic beverages and other comestibles, as well as pin-ups (both female and male), pharmaceutical products, portraits of celebrities, and paperback images of romance and drama.
Robinson's work proposes an art interpellation within the play of desire, employing imagery that has been specifically designed to evoke hunger in its many modalities. His paintings don't simply address a viewer, they sell and engage one's primal desires. A member of the so-called "Pictures Generation," Robinson took part in the historic "Times Square Show" in 1980. He had his first exhibition of romance paintings at Metro Pictures in 1980, and also exhibited widely in the East Village during the beginning of the decade.
Walter Robinson was born in 1950 and has lived in New York City since 1968. He has a long career as an art critic and editor, co-founding "Art- Rite" magazine in the 1970s, serving as news editor for "Art in America" magazine in the 1980s and early '90s, and as founding editor of "Artnet Magazine" from 1996 to 2012. He has recently exhibited his work at Metro Pictures (2008) and Haunch of Venison (2012) in New York, and at Firecat Projects in Chicago (2012).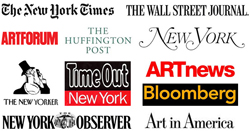 Press
From The Mayor's Doorstep
Love Art Not People
Art Critical
New Yorker
New York Social Diary
Time Out Magazine
East Village Live
Worley Gig
Bloomberg: Kissing Twins, Balancing Beams. Guide to Hot Downtown Art
Bowery Boogie
Zing Magazine
Huffington Post - March Art Exhibits: 10 Must-See Shows This Month
EV Grieve
artnet Tumblr
Artform Guide
Paper Magazine - Weekend Guide
Everything You Need To Know This week ON New York's Art Scene
12 Things to Do in New York's Art World Before March 3