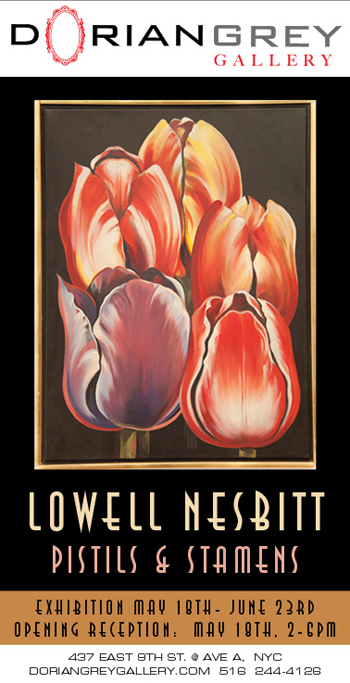 NY MAGAZINE: APPROVAL MATRIX!
New York Observer
Dorian Grey Gallery is proud to present Lowell Nesbitt's Pistils & Stamens, the first exhibition of this artist's work in New York City in over twenty years.
Lowell Nesbitt was born in Baltimore in 1933. He graduated from Pennsylvania's Tyler School of Art at Temple University in 1955 and attended London's Royal College of Art from 1955 to 1956. His first exhibition was in 1957, and was followed by more than eighty domestic and international solo exhibitions in his lifetime. His paintings, drawings and prints are included in the collections of The Metropolitan Museum of Art, The Museum of Modern Art, National Gallery of Art and Philadelphia Museum of Art. In 1969 and 1970, NASA named Nesbitt the official artist of the Apollo 9 and Apollo 13 missions. In 1980, the US Postal Service released a series of stamps based upon his floral paintings.
By 1963, Nesbitt had moved to New York City and by the early 1970's, had emerged as one of the most well regarded artists of his generation. He is best known for the more than four hundred floral works he created, all rendered in this signature hyper-realist style. He began experimenting with printmaking in the 1960's and produced more than a hundred original prints over the course of his lifetime, primarily in the mediums of silkscreen and dry point engraving.
In 1976, Nesbitt purchased a former police stable at 389 West 12th Street. The studio and living space provided a fitting backdrop for his larger-than-life paintings. Nesbitt called the space "The Old Stable" and hosted many celebrated gatherings there for his friends and fellow artists.
In 1989, Nesbitt became involved in one of the most important First Amendment controversies of our time. Nesbitt's close friend Robert Mapplethorpe's show at Corcoran Gallery of Art in Washington D.C. was canceled amidst claims from social conservatives and national politicians that Mapplethorpe's work should be deemed obscene. In a demonstration of solidarity and courage, Nesbitt publicly revoked a $1.5 million bequest he had committed to Corcoran. As a young man, Nesbitt had worked as a night watchman for The Phillips Collection and often cited this experience as a major influence in his development as an artist. After revoking his bequest to Corcoran, he bequeathed the gift to The Phillips Collection instead which has one of the most substantial collections of his art. Lowell Blair Nesbitt passed away in July 1993 at 59 years young.