Resillient - Recent paintings & subway signs by COPE2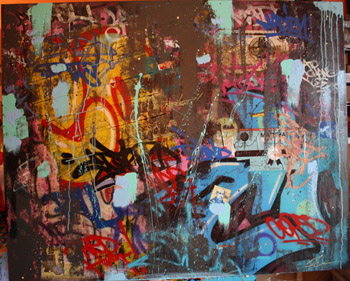 Cope2 - Resilient - 50 x 60 in
May 17th- June 24th

&nbsp
For over 30 years, COPE2 has steadily risen to become one of the world's most prolific and recognizable living aerosol artists on the graffiti art scene. From high fashion and sports apparel to popular video games, COPE2's art work has crossed over to popular culture. A self-taught artist, born and raised in the south Bronx, his paintings have graduated from the subway cars of the IRT line and now grace the walls of galleries and private collections throughout the world. Today his distinctive style has evolved to incorporate classic urban graffiti style "bubble letters" interwoven with intricate abstract compositions.
&nbsp
Dorian Grey Gallery proudly presents Resilient, an exhibition featuring recent paintings & unique works on paper by COPE2.
&nbsp
Please join us on May 17th from 5-8pm as we celebrate an artist that successfully bridges the worlds of New York's gritty street culture and fine art.
Press Links
Vanadlaog