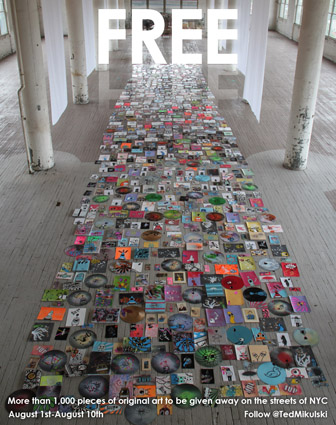 Ted Mikulski at Dorian Grey Gallery
Contemporary Artist to Give Away 1000 works of Art!

Opening Reception: August, Saturday the 11th 5-8PM Exhbition: August 11th - Sept 2nd, 2012
In an unprecedented performance, contemporary artist Ted Mikulski will be giving away over 1,000 pieces of his original works of art on the streets of Manhattan beginning on August 1, 2012. The project will continue until August 10th, with more than 100 pieces being given away each day in different areas of the city. Ted will be approaching people at random and offering them his work for free, with no strings attached. The pieces are a variety of different sizes and are created on different mediums of canvas, wood, vinyl, plastic, and paper.
This free art project will introduce visual art to those who may not consider themselves in the art world, or those who would not normally consider visual art to be a part of their lives. The opportunity to interact with a diverse group of people from all walks of life is established through the randomized nature of the project. There will also be a hide and seek aspect to the project, in which people will be able to search for the artist via Twitter (@TedMikulski) to try and receive their own piece of free art. The project is being filmed for a web-based documentary by Shay Motion Films.
For more information and images of the free artwork, visit
http://tedmikulski.com/freeart.htm
Following the completion of the project, Ted Mikulski's breakout NYC solo exhibition opens on August 11th from 5-8pm and continues through September 2nd at the Dorian Grey Gallery, located at 437 E 9th St. & Ave A. in the East Village.
About the artist: Ted Mikulski is a full-time artist with his studio located in Connecticut. He is the pervasive artist behind projects like Teem Robots Internet Graffiti, 2010 and Tweets in Real Life, 2011-Ongoing. Besides project-based expression, he shows his work at venues throughout New England and New York. Ted's gallery work is colorful with a cartoonish aspect, manifesting itself in characters such as robots or flowers.
Press
Netorama
Jaz Jaz